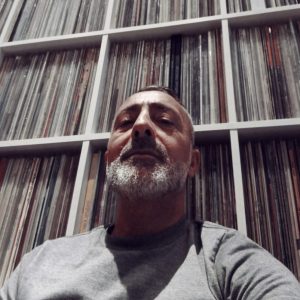 AGOSTA
Roberto Agosta was born in Catania in May 1963, the last son in a family with many children. From an early age he participated in the collective listening sessions that his older brothers – music and politics enthusiasts – and his neighborhood friends, in turn, used to set up. From there was born his passion for '70s prog, rock and psychedelia, as well as the desire to organize parties and musical happenings in underground clubs and garages transformed, if necessary, into real venues.
At the age of 20 he began to work – without ever abandoning music – in the fashion field; in Catania, he started a commercial activity with the opening of clothing concept stores – "music and fashion were natural consequences that represented my professional growth", says Roberto. His work experiences have often led him to finance musical projects, sponsoring artists and local realities of the new generation, also through the organization of events.
Among his many experiences, in the early nineties he actively participated in the artistic growth of the first 'alternative' disco bar and club in Catania, called "Krasnapolski", playing hip-hop, ambient and trip-hop music when Massive Attack, Portishead, Tricky or labels like Wall Of Sound and Ninjatune were moving their first steps. As he explains, "it was a fantastic and creative period for the city, new sounds were being heard and places suitable for them were born; I've always preferred small realities instead of large discos to spread music, places where you can breathe a certain intimacy, where I can express myself and feel comfortable.
In the last decade, with his longtime friends, Massimo Napoli (Galathea), Giacomo Cottone and Salvo Borrelli, he's founded the Nero Espresso collective, organizing evenings especially dedicated to black music, with permanent residence at "Mercati Generali", a place that hosts events important international guests such as Dele Sosimi and Fred Wesley. 
2022 marks the beginning of a new era and adventure with Space Echo.