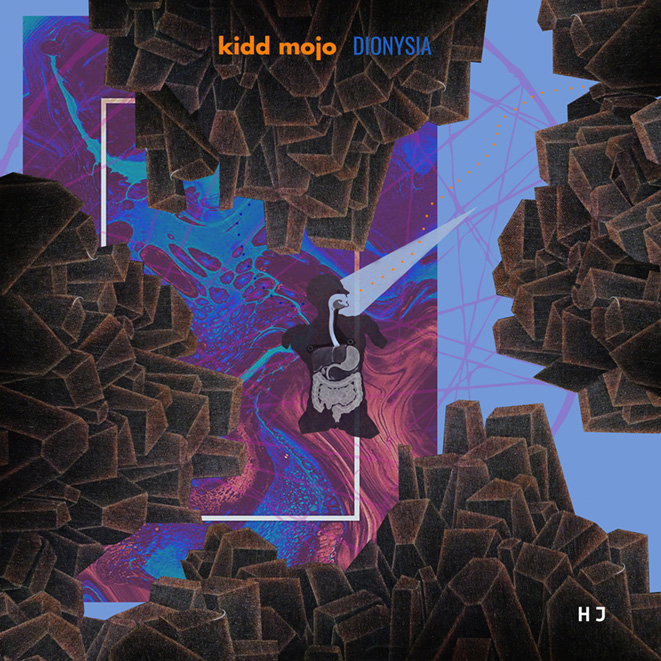 LP | HJ004LP | 8018344330044
KIDD MOJO
Dionysia EP
Kidd Mojo makes his debut on Hyperjazz Records including on his Ep a great featuring by the Grammy nominated artist Georgia Anne Muldrow!
Over 2500 years ago in Athens, the Dionysia was a large festival in honor of the god Dionysus. It was the second-most important festivity in the city-state, and probably the best symbol of the cosmopolitism and modernity of the ancient Greek culture and society. It was an extraordinary event involving the whole population (even the inmates were temporary free) in order to integrate marginalised people and consolidate social cohesion. The Dionysia was also an essential part of the Dionysian Mysteries, an esoteric and mystic ritual – whose origins are lost in time – which used trance-inducing techniques (like dance and music) to remove inhibitions and social constraints, allowing the individual to return to a natural state.
Passionate about beatmaking, punk, and Greek mythology, using his Mpc2000 like a stargate, Kidd Mojo tries to lead the 'Dionysia''s listeners into a very personal noisy journey through vintage sampling techniques, hip-hop beats, futuristic synths melted with hints of Afrobeat and jazz. An imaginary world, shaped by a modern ritual that encompasses past, present, and future and helps people reach their inner self through sound.
All tracks are composed, arranged, and produced by Luca Bologna aka Kidd Mojo
"Pearls" (track number 2): Lyrics by Georgia Anne Muldrow
Mixed by Princevibe at Princevibe Studio (VA)
All tracks are mastered by Massimiliano Nevi at BitBazar (Rome)
Additional musicians:
Fabio "Veezo" Visocchi – rhodes, synths and fw
Ferdinando Faraò – drums
Jacopo Boschi – guitars
Artwork by Federica Bologna
* * *
Kidd Mojo is Luca Bologna, bass player and founder of the nu-soul Black Beat Movement collective. An 8bit fanatic grown in the Milan punk and hardcore scene, with a strong passion for the Greek mythology and in love with jazz, Detroit beatmakin' and 2000's LA sound. Born in the '80s, his sonic world is analogue, made of vinyl, VHS, and tapes. With a marked hip hop attitude, he constantly explores music composition with his Mpc2000 through sampling, saturation, and compression experiments.
"I hate clear sounds, trying always to find a way to bring flaws out and make them special".
Tracklist LP:
A1 Gilgamesh
A2 Pearls (feat. Georgia Anne Muldrow)
A3 Theshapeoffunk2come
A4 VS Takitaro
B1 Pillar Of Autumn
B2 Siroco
B3 Hypermnesia
B4 Arimathea / The Eye Of Revelation