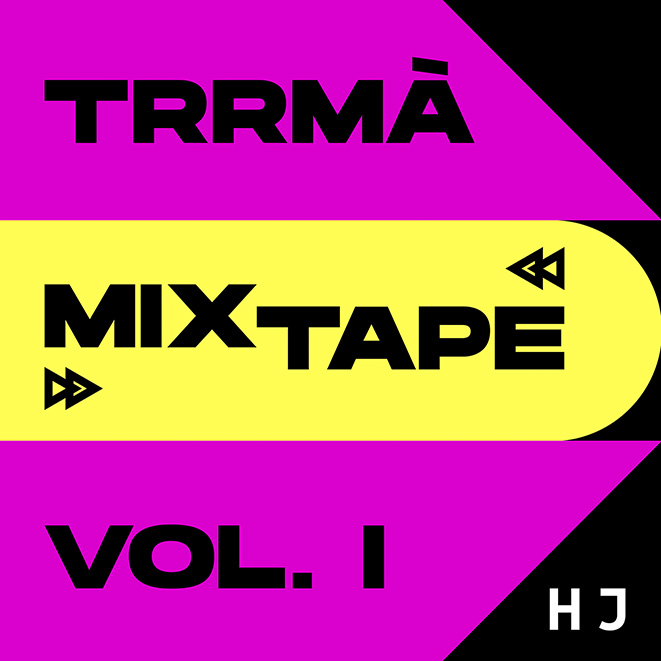 Tracklist:
01 Miami Heat 2:08
02 Meeh 1:37
03 Freaky Orchestra 2:42
04 Against L.C. 2:07
05 The Ant on It 2:20
06 Sunset Creeks 3:00
07 Flower's Burger 3:33
08 Hi Men Hola 1:56
09 Ferret 1:56
10 Hey Davis 3:08
11 Atlantis 3:00
12 Loop That with Cocaine 3:17
13 Plus Mayo Que Juno 3:56
TRRMÀ
Mixtape Vol. 1
'Mixtape vol. I' is an instrumental beat collection that outlines a new chapter in Trrmà's creative process. Giovanni Todisco (drums) and Giuseppe Candiano (electronics) made a trip down their memory lanes and created something new which is a direct expression of their musical roots.
'Mixtape vol. I' blends together hip-hop attitude, Detroit techno synthesis, and what we call 'hyperjazz'. The result of this mix is something not obvious or permanent, and it engages perfectly the Hyperjazz's intentions to define a new way of conceiving rhythmic music in our century.
Inspired by the most refined beat-making scene, this work is distinguished by special live drums processing mixed with electronic beats, detuned vocal samples, classic synth, and cosmic sounds.
Who are Trrmà
Trrmà is the duo formed by Giovanni Todisco and Giuseppe Candiano. Coming from different backgrounds, from classical to electronic music, in 2015 they crossed their sonic paths in the powerful European DIY scene. Releasing several records during the past years, they've collaborated with such great artists as Jamaaladeen Tacuma and Charlemagne Palestine (Sssseegmmeentss Frrooom Baaari LP, 2019).
All tracks are composed and arranged by Giovanni Todisco (drums) and Giuseppe Candiano (electronics)
Mixed and mastered by Alessandro Marocco @ Jungle Mob Studios
Artwork by Fortuna Todisco