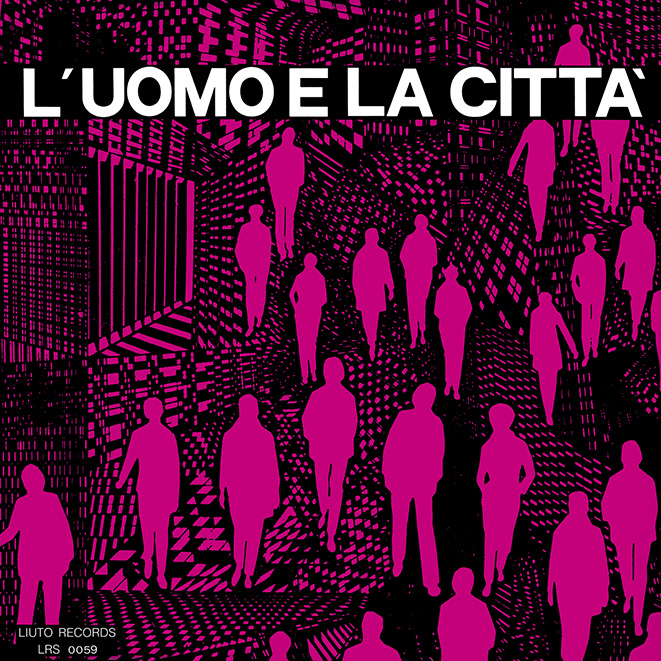 LP | DIALP921 | 8018344499215
CD | DIACD921 | 8018344399218
PIERO UMILIANI
L'Uomo e la Città
Originally issued in 1976 by the composer's own imprint, Liuto Records, L'Uomo e la Città falls toward the end of a remarkably productive period for the composer. Over the 10 years prior, he created multiple dozens of film soundtracks and library releases in various roles and guises, before dramatically slowing his pace during the last two and a half decades of his life. L'Uomo e la Città, an intricate panorama of urban Italian themes – factories, metropolis, work, technology, etc. – attempts (and arguably achieves) to provide a plausible soundtrack to a rapidly changing world during the hectic 1970s, drawing a vast pallet of references and approaches, from avant-garde techniques / sounds sources, risky experimentation, and easy-listening songs, all hinting toward the chaos of traffic and assembly lines, counterbalanced by the silence of the night, the end of the working day, and the happy ease of Sunday's rest.
With Umiliani backed by a large, all-star ensemble that includes celebrities players like Bruno Tommaso, Oscar Valdambrini, Dino Piana and Nino Rapicavoli, L'Uomo e la Città falls solidly within the idiom of jazz that emerged during the 1970s, resting slightly adjacent to popular music, with funky, sweet tonalities and rhythms that reference the big band sounds of '30s and '40s, while making something entirely new and of the moment, brought further afield by the presence of futuristic, electronic sounds.
Comprising 13 free-standing compositions that double as components within a seamless sonic journey of imagined and real spaces, from hard driving to smooth and silky the band rises and falls – locked in with extraordinary tightness – that plays like an absolute joy before the ear, L'Uomo e la Città is Umiliani gold. Issued by Dialogo as part of their Piero Umiliani Legacy Series – in a beautiful fully-authorized vinyl edition, also available on CD and remastered from the original analogue master tapes – it's an absolute must for any fan of Italian library music and soundtracks, as well as any fan of '70s jazz.
Tracklist LP:
A1 L'Uomo e la Città 3:13
A2 Città Amica 4:47
A3 Città Frenetica 2:44
A4 Quartieri Alti 2:56
A5 Viadotti 3:40
A6 Piazza di Siena 2:48
B1 L'Uomo e la Città 1:36
B2 Rete Urbana 3:28
B3 Centrali Termiche 2:28
B4 Centrali Termiche 2:24
B5 Città Amica 3:51
B6 L'Uomo e la Citta 2:46
B7 Suoni della Città 3:16
Tracklist CD:
01 L'Uomo e la Città 3:13
02 Città Amica 4:47
03 Città Frenetica 2:44
04 Quartieri Alti 2:56
05 Viadotti 3:40
06 Piazza di Siena 2:48
07 L'Uomo e la Città 1:36
08 Rete Urbana 3:28
09 Centrali Termiche 2:28
10 Centrali Termiche 2:24
11 Città Amica 3:51
12 L'Uomo e la Citta 2:46
13 Suoni della Città 3:16