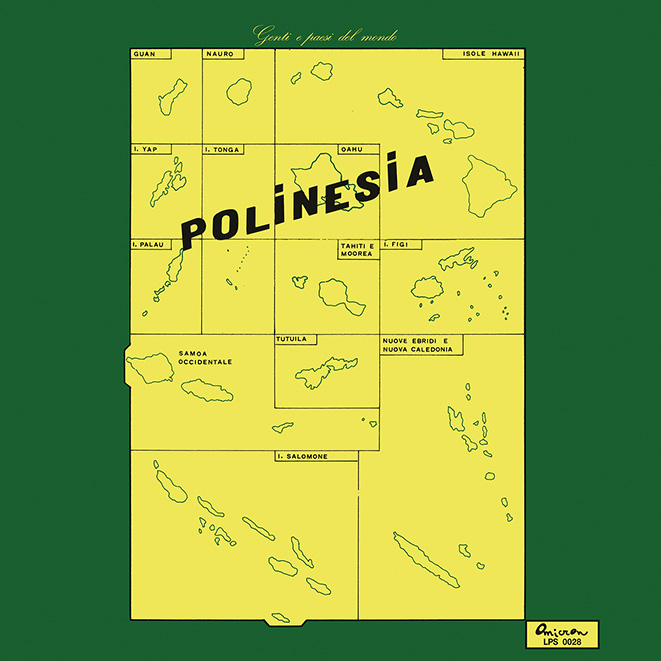 LP | DIALP919 | 8018344499192
CD | DIACD919 | 8018344399195
PIERO UMILIANI
Polinesia
Belonging to a series of geographical-themed albums that draw upon numerous indigenous traditions from across the globe, like the previous releases in Dialogo's Piero Umiliani Legacy Series – Continente Nero and Africa – Polinesia, issued by Piero Umiliani's own Omicron imprint in 1975, highlights the composer's travels and his striking ability to mirror these physical movements through sound, activating a seemingly unstoppable realm of creative freedom and exploration for composer and musician alike.
Rooted in a foundation of rich percussion, soft tribalism, and exotic suggestion, Polinesia renders an abstract mirage of white beaches kissed by the ocean via its colorful cocktail of sonority, dancing blissfully across the album's 15 songs, and covering a startlingly amount of creative territory as it goes. From the loungy kitsch of its opening tracks, or the overwhelmingly beautiful vocal melodies of Sotto le Palme, to the percussive minimalism of Canoe, Erbe Magiche, Danza Magica – each calling to mind Moondog at his best, with a bit of Midori Takada thrown in – and the dense ambiences of Pellegrinaggio, the composer takes us deep into an imagined realm, moving freely across its geographies and drenching the ears in its sounds.
Beautiful and striking from the first turn to the last, Umiliani's Polinesia fleshes out the world we began to explore with Dialogo's reissues of Continente Nero and Africa, adding breezy sounds to the mix and plenty of dynamism across its length. Never before reissued on any format, with original copies commanding top dollar on the secondary market, Dialogo's fully authorised vinyl reissue of Polinesia is a stunning thing to behold. Also available on CD, the album was remastered from the original analogue master tapes.
Tracklist LP:
A1 Benvenuti all'Isola 3:50
A2 Sotto le Palme 3:48
A3 Canoe 1:58
A4 Danza Magica 2:12
A5 Sotto le Palme 1:57
A6 Plenilunio 3:15
A7 Tamburi di Guerra 1:31
B1 Benvenuti all'Isola 2:27
B2 Richiamo del Golfo 3:12
B3 Erbe Magiche 2:02
B4 Plenilunio 3:14
B5 Pellegrinaggio al Totem 2:48
B6 Tamburi nella Giungla 1:58
B7 Tamburi Sacri 1:56
B8 Esorcismi 1:42
Tracklist CD:
01 Benvenuti all'Isola 3:50
02 Sotto le Palme 3:48
03 Canoe 1:58
04 Danza Magica 2:12
05 Sotto le Palme 1:57
06 Plenilunio 3:15
07 Tamburi di Guerra 1:31
08 Benvenuti all'Isola 2:27
09 Richiamo del Golfo 3:12
10 Erbe Magiche 2:02
11 Plenilunio 3:14
12 Pellegrinaggio al Totem 2:48
13 Tamburi nella Giungla 1:58
14 Tamburi Sacri 1:56
15 Esorcismi 1:42