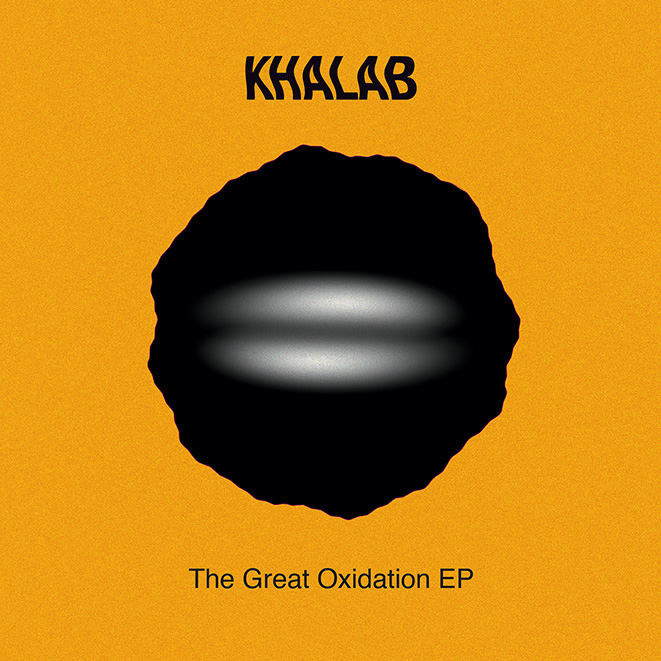 LP | HJ995LP | 8018344339955
Digital
KHALAB
The Great Oxidation EP
With the locution "Great Oxidation Event" we usually refer to the first major mass extinction that has been known on Earth. Occurred around 2,5 billion years ago, it consisted in a huge rise in oxygen in the atmosphere and shallow oceans that radically changed the conditions for the life on our planet, enabling the subsequent development of multicellular life forms.
As debut on his own label Hyperjazz Records, with'The Great Oxidation EP', electro-shaman Khalab comes back to his natural habitat: the dance floor.
With these three instrumental tracks, the visionary artist aims to drive the listener on a backward journey, down to rediscover the most ancestral human rite: to dance. A return to the origin in a radical way to reach a brighter future, but also a bridge for another world – a new space where meet new life forms and uncover new feelings and new consciousness.
To embellish this EP, the presence of two very special collaborations. The acclaimed Detroit-based drummer and producer Shigeto joined Khalab in the track 'Anaerobe'. Also, the Mexican visual artist Carlito Dalceggio contributed with his amazing art by creating the video clip for the track 'Neba': a full hand-drawn short movie with no digital manipulations or special effects. His work reflects the seamless ease in which he moves between genres and cultures all in the service of creating the mythology of now.
All tracks written by Khalab
Produced & arranged by Khalab
Mixed by DJ Knuf & Khalab at Studio 33, Rome
Mastered by BitBazar
Keyboards on 'Olivine' and 'Neba' by Nicola Guida
Synth and drums on 'Anaerobe' by Zachary Saginaw (Shigeto)
Artwork by Marco Klefisch
Layout & packaging by Gizzo
Video clip 'Neba' by Carlito Dalceggio
Khalab
Electronic artist and producer Khalab has developed an international reputation for his original fusion of traditional African sounds, deep bass work, jazz, and heavily layered & dense electronic textures. He has three albums on his credits: 'Khalab & Baba', a four-handed work with the Malian griot Baba Sissoko, released for the Nickodemus' Wonderwheel
Records; the worldwide acclaimed 'Black Noise 2084', that draws on the field recordings archive of the Royal Museum in Brussels and result of the collaboration with some of the most innovative musicians of the current UK jazz scene; and 'M'berra', recorded in the Mauritanian desert together with the some Tuareg musicians from Mali (M'berra Ensemble), that earned him the collaboration with the Peter Gabriel's Real World Records.
His music evolution is a seamless journey – from the most ancestral tribes to the unexplored cosmos; from the black jungle to the skyscrapers; from the remotest subconscious to the furthest and real projection of future Africa. His wide-reaching musical tastes can be heard regularly on his monthly Worldwide FM show, Love from Rome.
Already working on a new record ready in 2022, Khalab pulls out of his laboratory the first experiment with this EP.
Tracklist LP 12″ / Digital:
01 Olivine 4:14
02 Neba 4:36
03 Anaerobe (feat. Shigeto) 5:56