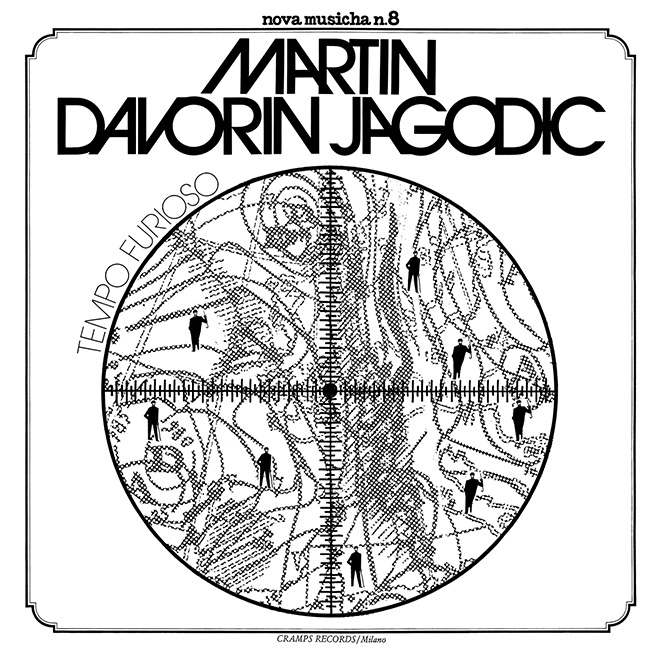 LP | DIALP912 | 8018344399126
MARTIN DAVORIN JAGODIC
Tempo Furioso
Martin Davorin Jagodić (1935 – 2020) was a Croatian composer and educator, who studied under Milko Kelemen, among others, before relocating to France in 1960 to study under Olivier Messiaen, eventually landing at Groupe de Recherches Musicales, where he worked between 1967 to 1969. Over his long career, he collaborated with John Cage and various painters and film makers, and composed for theatre, multimedia installation art, experimental film soundtracks, radio art, electroacoustic music, musique concrète – often incorporating video, film and slide projections into his performances – but sadly only produced one album, Tempo Furioso (Tolles Wetter), issued in 1975 by Cramps as the 8th instalment of the their Nova Musicha series.

Tempo Furioso (Tolles Wetter) is an electroacoustic work that incorporates elements of radical approaches to electronics and musique concrète, including found sounds into its two long movements (one for each side of the LP). In his liner notes for the original edition – now translated into English for the first time by Dialogo – Davorin Jagodić likens the work, one of many possible manifestations of its open structures – to a storm unsettling a listener who resides in the safety and warmth of their home; the infiltration of naturally encountered sonorities demanding to be heard – "wood creaking, wind blowing, as well as lines connecting us with the outside world, far away as it might be (radio stations, for instance)."

Launching with marked intensity, across its early moments Tempo Furioso (Tolles Wetter) immerses the listener within an intricate tapestry of far-out electronic sounds, before gradually moving toward an incredibly complex and diverse pallet of found sounds, incorporating field recordings and broadcast sounds – static, speech, and numerous fragments of music – that intersect and collide like a transnational radio placed in various environments and spun out of control, culminating the first side with a cacophony built around an unknown document of free jazz.

By contrast, the second movement of Tempo Furioso (Tolles Wetter) is no less 'musical' but defined by large passages of intricate, restrained sound collage built around delicate field recordings of various environments, penetrated by vocal and electronic interventions, as well as various, fleeting presences drawn from the industrialised world. Sonically engrossing, creatively brilliant, and metaphorically rich, it is within these moments that Davorin Jagodić's true talent and bravery as an artist become impossible to ignore.

Offering a long overdue reappraisal to one of the most fascinating and under-acknowledged artists associated with GRM during the '70s, Dialogo's beautiful vinyl reissue of Martin Davorin Jagodić's Tempo Furioso (Tolles Wetter) couldn't be more timely or welcome, illuminating a missing link between the Parisian attitudes toward electroacoustic practice, and the electronic innovations of contemporaries like Stockhausen. Issued in a limited edition of 300 copies on black vinyl, with fully remastered audio, housed in a gatefold sleeve that beautifully reproduces the original design, complete with brand new English translations of the original liner notes, we all owe Dialogo a great debt for bringing it back to our ears. Don't sleep. It's not going to sit around for long.
Tracklist LP:
Side A:
Lato A (B) 20:10
Side B:
Lato B (A) 23:00