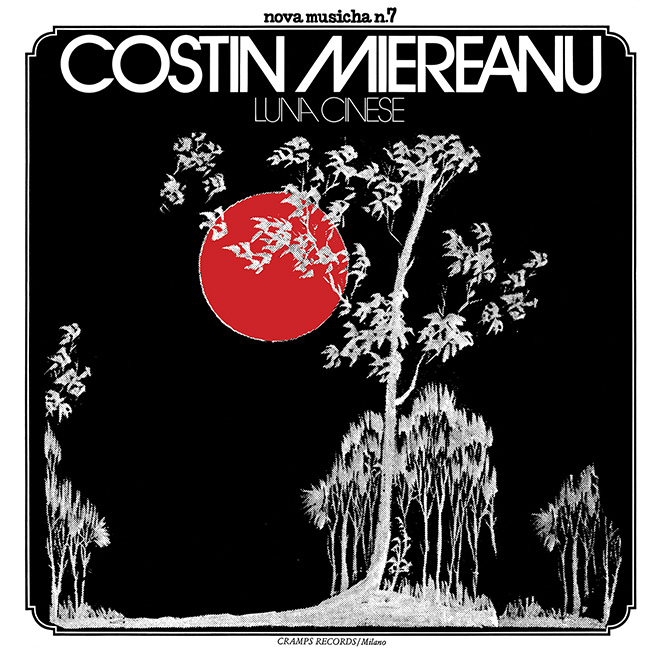 LP | DIALP911 | 8018344399119
COSTIN MIEREANU
Luna Cinese
Of all the seminal figures that recorded for Cramps, the Romanian / French composer, Costin Miereanu, remains among the most distinct and under-appreciated. The reemergence of his debut LP, Luna Cinese, issued by the label in 1975, will likely change that.
Over the last decade or so, Miereanu has developed something of a cult following among experimental fans because of his stunning series of albums issued during the 1980s on his own Poly-Art imprint, skirting the border of ambient music and minimalism in highly individual ways. Luna Cinese, which dives into far more explicitly experimental territory, will undoubtedly be a revelation and expose the true underpinnings of the work that would begin to emerge in the next decade and a half.
During his early years, Costin Miereanu was something of a wunderkind of avant-garde and experimental music. Born in Bucharest, between 1960 to 1966 he was a student of Alfred Mendelsohn, Dan Constantinescu, and Lazar Octavian Cosma, before moving to Paris where he earned a Doctor of Letters and a Doctor of Musical Semiotics, winning numerous prizes in writing, analysis, music history, esthetics, orchestration, and composition. Between 1967 and 1969 he was a student of Karlheinz Stockhausen, György Ligeti, and Ehrhard Karkoschka at the Internationale Ferienkurse für neue Musik in Darmstadt, laying the final groundwork for a stunning career as both a composer and noted academic over the years since, often combining techniques drawn from Satie with the abstraction of Romanian traditional music into a sonic fabric that is guided by systems associated with Musique concrète.
Luna Cinese, issued as the composer's debut LP by Cramps in 1975, is a stunning combination of all these elements. The work – stretching across the album's two sides, consists of continuous low-density repetitions, built from what the composer describes as "the kind of 'woven' silence you find on mountains – occasionally disturbed by irregular and very dense insertions – the kind of intense noise you find in the city." The result, combining a vast range of environmental sound, voices chattering in various languages, fragments of acoustic instrumentation, and the pulsing and ambiences of synths and electronics, is about as singular and beautiful as experimental works from the 1970s come, while never for a moment sacrificing rigour or tension.
A truly stunning, interwoven sonic expanse that lays pregnant with multiple meaning and interpretations – conceived by the composer to illuminate the complex ways in which meaning and narrative are constructed across time – and imbued with surrealism and the 'schizoid', Luna Cinese stands as an entirely distinct and original gesture within the canon of experimental music, displaying a remarkable density, while open, airy, and encouraging the subjectivity of the listener to play an active part.
Easily among the best and most important works from the original Cramps catalog, but sinfully overlooked over the years since its release, Luna Cinese is as good as they come and an absolutely riveting and immersive listen. Issued by Dialogo in this newly remastered vinyl edition – the first since 1975 – with its original liner notes by Miereanu in a brand-new English translation, this one is impossible to recommend enough and will leave the composer ringing in your mind for a long time to come.
Tracklist LP:
Side A:
Lato x opp. y
Parte Prima (Seconda) 20:53
Side B:
Lato y opp. x
Parte Seconda (Prima) 20:30