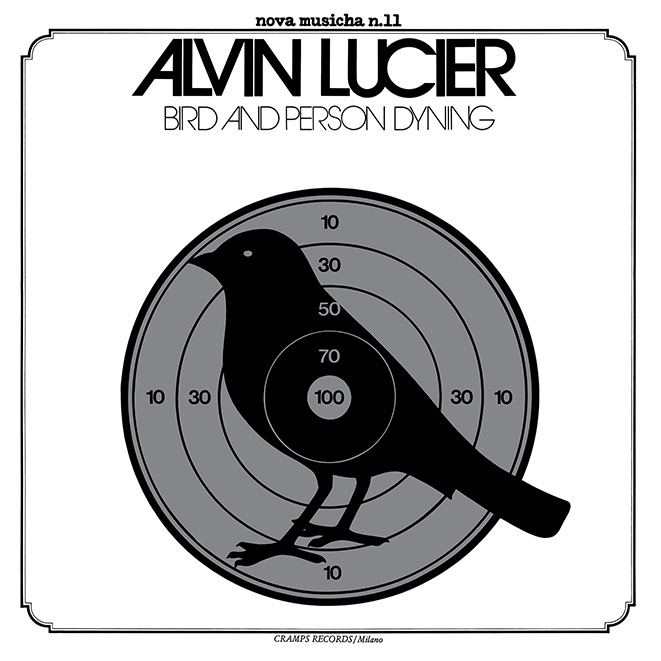 LP | DIALP913 | 8018344399133
ALVIN LUCIER
Bird and Person Dyning
Born in 1931 and active for roughly three quarters of a century, Alvin Lucier is a living legend and a treasure of the American musical avant-garde. It is impossible to overstate his importance. He is a towering pilar of intellect, creativity, and beauty who has yielded unparalleled influence with a body of work that has plumbed the depths of acoustic phenomena and auditory perception, exploring the resonance of spaces, phase interference between closely tuned pitches, and the transmission of sound through physical media, rising with unparalleled subtly innovation, and poetic depth.

Lucier belongs to a generation of composers who emerged during the early 1960's, inheriting, but not beholden to, a landscape in constant creative and conceptual flux, contending with the challenges put forth by predecessors like John Cage. With David Behrman, Gordon Mumma and Robert Ashley, he founded the legendary collective the Sonic Arts Union in 1966, all the while sculpting a singular and unparalleled body of work, focused around acoustic phenomena and auditory perception, which included, among many others, the groundbreaking works like Music on a Long Thin Wire and I Am Sitting in a Room, each quietly shifting the understanding of what music could be. Among these earlier efforts, his first solo LP, Bird and Person Dyning, issued by Cramps in 1976, stands high among the most groundbreaking and important.

Bird and Person Dyning comprised two incredible pieces from this phase in Lucier's career, The Duke of York and the title track, each taking up a single side of the LP. The first, The Duke of York, is built around the human voice and drew its early inspiration from Lucier's dream to build a grotesque jukebox to create a real-time collage of the cultural imprints of popular sound.

In the composer's own words, "A single performer chooses and determines the order of an indefinite number of whole songs, speeches, arias, selected excerpts from books, letters, poems, films, plays, TV series or any other vocal sounds, including non-human ones. The actual duration of these sounds is altered by one or more people using synthesisers or other electronic tools, basing their choices on memories or similar experiences. Once altered, for example through a filter, the example can no longer be undone, and other changes must be made to the previous examples." The final effect, as it evolves over the duration of the piece, is a stunning collision of vocal fragments, almost seeming to swim against the increasing tide of synthetic intervention and electronic sound, slowly becoming subsumed and transformed in a raw, unrecognizable materiality itself.

Bird and Person Dyning, taking up the second side, is a groundbreaking work that lays important foundations for Lucier's life long exploration of sound in space, its relation to the body, and the generative possibilities of close pitches, in this case exploring the sounds of an electronic bird as they resonate inside of the head and in the ear canals.

As he describes it in the album's liner notes, "I began experimenting by moving the sounds of the bird between two speakers, listening to them through the two mini microphones inserted in my ears, as I walked slowly through the space between the two speakers. The amplified chirps moved left and right according to my movements, creating small time delays and phase-shifts in relation to the position of the motionless bird. Sometimes the microphones would resonate with the loudspeakers, thus generating a Larsen feedback, and I could control the timbre and volume with small head movements […]. A performance of Bird and Person Dyning is a live exploration of these phenomena."

The outcome is unlike anything in the history of recorded music prior to it, a tense effort of minimal materiality that maximizes its possibilities to monumental terms, shifting and spatializing tones and electronic sounds producing a previously unencountered world.

As important as reissues come, the seminal document from early in Lucier's career is released by Dialogo in a limited edition of 300 copies on black vinyl, with fully remastered audio, housed in a gatefold sleeve that beautifully reproduces the original design, complete with brand new English translations of the original liner notes. Impossible to recommend enough.
Tracklist LP:
Side A:
The Duke of York (1972) 20:33
Side B:
Bird and Person Dyning (1975) 24:00