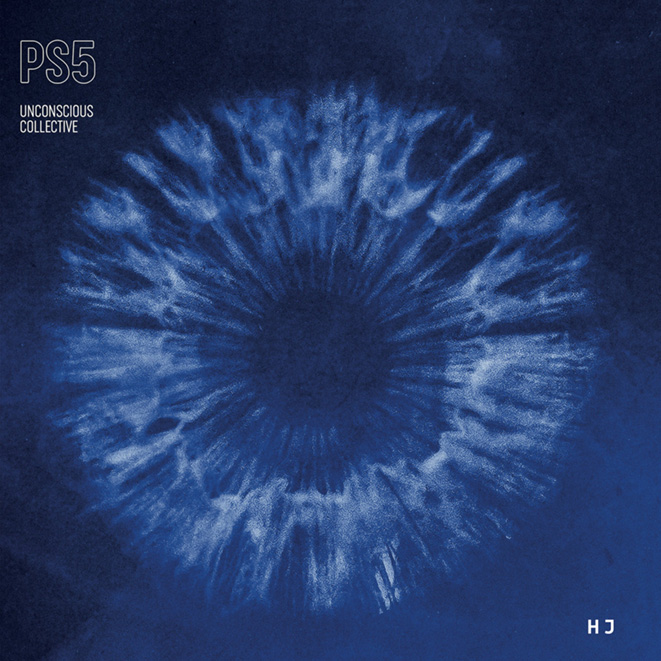 LP | HJ005LP | 8018344330051
PS5
Unconscious Collective
'Unconscious Collective' is the first album by PS5 – the new ensemble led by Pietro Santangelo (Nu Guinea, Slivovitz, Fitness Forever) – and it will be out for Hyperjazz Records on 21st May 2021.
It's a musical experiment where layered memories and hidden feelings resonate as if they arise directly from the most recondite part of the unconscious and produce a suspension of the stream of consciousness. With the aim to create a state of trance and override the human reason, this is an imaginary round trip across the Mediterranean Sea and the Atlantic Ocean, ideally connecting Naples with North Africa and Latin America.
The arrangements wrote by Santangelo are based on great freedom of improvisation: while the melodic textures of the two saxophones didn't give any clear references, the other musicians followed the rhythmic pulse and its unpredictable ways. The music moves naturally along an imaginary line highlighting the ancestral connection between Jamaica and Ethiopia or between Nigeria and Cuba. In the background, Naples is a synthesis of all the sonic ingredients, mixed and cooked in its own mystical and spicy belly.
Besides Santangelo himself on the tenor and soprano saxophones, the collective is made up of: Paolo Bianconcini, a brilliant Neapolitan percussionist with a very deep Afro-Cuban background; Giuseppe Giroffi, young and talented alto and baritone saxophonist; the bassist Vincenzo Lamagna and the drummer Salvatore Rainone, both loyal members of the former Santangelo's trio.
Recorded live at the Auditorium Novecento in Naples, the legendary studio of Phonotype Records, 'Unconscious Collective' is mixed in analog format by Fabrizio Piccolo and mastered by Davide Barbarulo at his 20Hz20KHz Studio.
Pietro Santangelo
Pietro was born, lives and plays in Naples. As a saxophonist and composer, he has released five albums with Slivovitz and one with his PS3 trio (Clinamen, Emme records 2017). Graduated in Digital Sound Processing at the Faculty of Physics of Federico II University, he is involved and engaged in the Italian scene of radical improvisation (Franco Ferguson, Elio Martusciello and Officina Arti Soniche, Collettivo NISE).
Multi-instrumentalist since forever, he has collaborated with Nu Guinea, Enzo Avitabile, Fitness Forever, Marzouk Mejri, Dennis Bovell and many others.
He's also author of soundtracks and electronic musician. He appreciates analog photography, loves walking outdoors. He hates biographical notes.
Tracklist LP:
A1 Transe Napolitaine 4:49
A2 Babalawo 5:08
A3 Amigdala 5:36
A4 Šulūk 5:29
B1 Makeda 5:53
B2 (Don't Step On The) Mome Raths 6:19
B3 Sempre Dodici 6:43
Tracklist Digital:
01 Transe Napolitaine 4:49
02 Babalawo 5:08
03 Amigdala 5:36
04 Šulūk 5:29
05 Makeda 5:53
06 (Don't Step On The) Mome Raths 6:19
07 Sempre Dodici 6:43
08 Idris (digital extra) 4:35