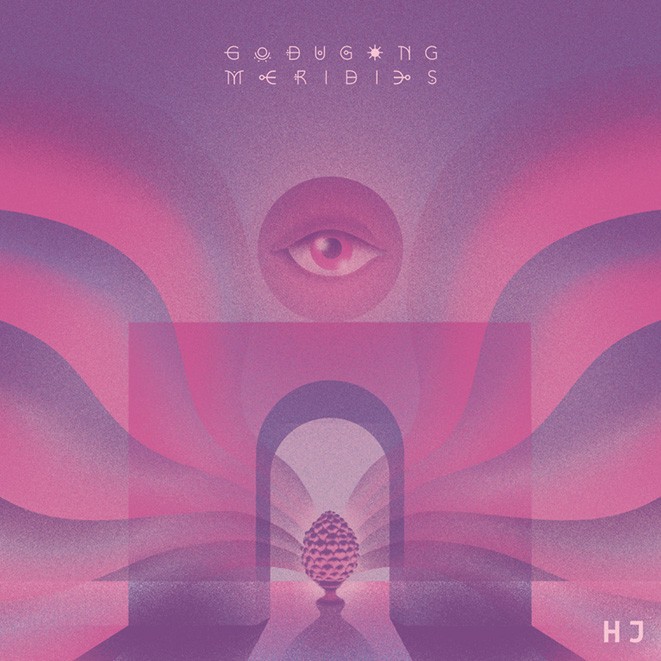 LP | HJ994LP | 8018344339948
Digital
GO DUGONG
Meridies
Go Dugong is Italian producer, DJ, musician and cosmic traveller, Giulio Fonseca. A global sounds lover, his productions are an intricate patchwork of rhythms, languages, instruments, field recordings and samples from all over the world that Go Dugong waved with the passion of a collector and the meticulousness of a craftsman. The result is animated by a global energy in constant evolution.
Recognised as a leading figure in the contemporary panorama of electronics research, his new album 'Meridies', released 12th November via Hyperjazz Records/La Tempesta Dischi, is the result of an investigation into traditional Apulian music from the south of Italy, inspired by his hometown, Taranto, and the phenomenon of the Tarantella.
Tarantism is deeply rooted in South Italian folklore and history between the 15th and 18th centuries. It was a psychological illness related to a schizophrenic state, widely believed at the time to be caused by the bite of a tarantula, scorpion or snake. Legend has it that the victim, mainly women, would fall into a fit and to achieve healing, they would be subject to a ritual where they would be driven into a state of trance, thanks to a frenzied dance called Tarantella.
On a quest to push the boundaries of traditional Apulian music, Go Dugong's research has allowed him to rethink and rework these musical traditions of his homeland, leading to the creation of a soundtrack for an imaginative and futuristic ensemble of peasants and farmers.
Go Dugong collaborated with numerous musicians on 'Meridies' – unusual with respect to the genre, in order to combine traditional Apulian music with sounds and influences belonging to other Italian and Mediterranean regions, reinterpreting a genre that for many years has lived trapped in its canons.
On 'Corna di Serpente', multi-instrumentalist Ricky Cardelli (Funkrimini, Caportuna) brings a trance-like rhythmic flow, while his father Claudio Cardelli, a musician, documentary film maker and author of several books on India, adds sitar to 'Mercato Nero', alongside Apollo Negri on Hammond organ. Indian psychedelia and Italian folk comes to life while the tribal, future exotica of 'Randagio' (feat. Mai Mai Mai), inspired by abandoned parts of the south of Italy and the stray dogs that live there, is a rich collage of sounds. Elsewhere, Rome-based trumpet player Francesco Fratini brings a jazz influence to the warm melodies of 'La Montagna Sacra' while Italian folk legend Alfio Antico brings frenzied tambourine to the archaic 'Esorcismo'.
'Meridies' represents a fundamental step in the reinterpretation of the rhythmic and musical tradition of Southern Italy, filtered through electronic synthesis and contemporary languages. Rhythmic pizzica interweave with organs, old synthesizers, lysergic guitars and makeshift objects such as old cardboard boxes and cookware, used as side percussions to the traditional tambourine, all immersed in a psychedelic magma of deep trance and hypnosis for the purpose of "healing".
Go Dugong has brought his music to festival and venues throughout Europe and the rest of the world, constantly inspired by the concept of travel, both physical and cosmic as well as
mental. He has collaborated with many artists in his career including Populous, Clap! Clap!, El Buho, Témé Tan, Rafael Aragon, Miriam García and more. 
The brainchild of Italian electronic artist and producer Khalab, Hyperjazz Records is the product of the ever-changing language that is modern music, of its frantic and unrestrained evolution. A crossroads between past and present, and where jazz attitude meets new sounds and aesthetics.
Tracklist LP:
A1 Sacàra 3:54
A2 Pan 3:34
A3 Corna di Serpente 6:13
A4 Esorcismo 4:44
B1 Randagio 4:02
B2 La Montagna Sacra 7:06
B3 Tarantismo 4:48
B4 Risveglio 3:33
Tracklist Digital:
01 Sacàra 3:54
02 Pan 3:34
03 Corna di Serpente 6:13
04 Esorcismo 4:44
05 Randagio 4:02
06 La Montagna Sacra 7:06
07 Tarantismo 4:48
08 Risveglio 3:33
09 13 Aprile 4:44
10 Mercato Nero 5:04
11 Ionio 4:38
12 Luci nel Bosco 4:42