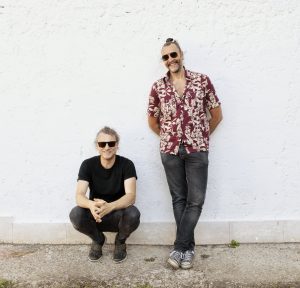 RANDOMIZED COFFEE
They craft a beautiful tapestry woven that's together with elements from Afrobeat, Latin jazz and funk. They juxtapose African tempos and rhythms with house-grooves for a sound that's both classic and modern. (Big Shot Mag)
Randomized Coffee is the musical project of Italian DJs, MassimilianoTroiani and Tommaso Checchi. 
Their artisanal approach as well as their passion for analogue sound has always pushed them to explore new musical territories. African music, Brazilian, jazz groove and Latin rhythms, skillfully mixed in an exciting patchwork of sounds, make their productions unique enough to have interested collaborations with musicians and DJs such as; Novalima, Kiko Navarro, Kalifa Kone, Kadi Coulibaly, Tony Cercola, Christian Vinci, and N'Dinga Gaba.
In 2017, the duo arrives overseas producing for the New York label "Wonderwheel Recordings" their third release; the EP "Baba/Cidade de Kalimba", and then to follow for the same label the EP "Mercato Burruchaga/Cotone Mediterraneo" with percussionist Tony Cercola, as well as the single "Barake" with Malian artists Kalifa Kone and Kady Coulibaly. 
At the end of 2019, Randomized Coffee are approached by Nickodemus 'DJ – deux ex machina' of Wonderwheel Recordings – to participate in Novalima's remix album "Ch'usay," making the remix of "Rumba Libre," a "killer track" that Novalima was so passionate about it, that they perform the Italian duo's version in their concerts instead of their original version.
In the spring of 2020, they remix Kiko Navarro's "Ihabogi Rawaly", track taken from the album "Afroterraneo," while in late 2021 they debuted with the track "Despierta" featuring Italian-Argentine singer Noel GC for Sony Music's Latin-oriented label; Orianna Music. In the summer of 2022, again for Orianna Music the duo released "Cumbarrio," featuring the collaboration of Spanish singer Owem-G in addition to the persuasive voice of Noel GC.
Photos: Francesca Checchi