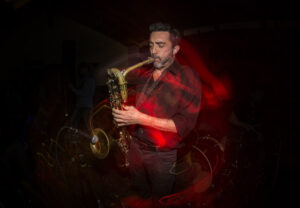 ALESSANDRO MEROLI
Baritone sax, alto sax, flute, composition.
Meroli is an experienced musician with collaborations in various musical fields. He's been performing with Splatterpink since the '90s – one of the hottest Italian jazz-core groups ever conceived, and enjoyed two albums on Cuneiform Records with prog rockers Deus ex Machina. For a decade he worked as musician, manager, collaborator and producer with the Italian pop star Neffa.
He's an experienced session musician in electronic dance and experimental music working for labels such as Irma Records, Compost, Yoruba (with the artists Osun Lade Atelewo), Sonar Kollektiv, Sony, Universal, BMG, Pasta Boys, Dj Rodriguez, Dj Volcov, Ohm Guru, Black Mighty Orchestra, LTJ Experience, Rima, Supabeatz, Frankie Valentine, Ninfa and Gunkhole.
He was a founding member of Faze Liquide, a nu-jazz outfit whose work has been released on the prestigious Jazzanova Sonar Kollektiv, and a founding member of the afro-jazz quintet Afronauti, whose work A Jazz Odyssey was broadcast by Radio Rai3 for Battiti and given rave reviews by the specialist magazine Musica Jazz.