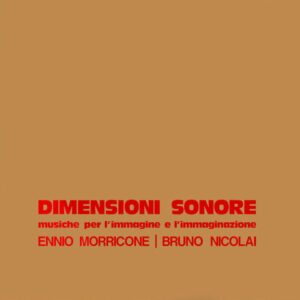 One of the most obscure and sought-after releases in the history of Italian music is finally having a reissue. An outstanding body of work, Ennio Morricone and Bruno Nicolai's Dimensioni Sonore has been eluding collectors and obsessives for nearly 50 years.
The Limited Collector Edition on Dialogo Records comes complete with 10 LPs, 10 CDs, a 48-page LP-sized book in English, an exclusive A3-sized poster and a screen-printed tote bag – all housed in a custom lavish linen box hand-made in Italy. This new edition of Dimensioni Sonore is limited to 200 copies with a special discounted pre-order price of [ ** ].
Among the most important figures in 20th century music, Ennio Morricone and Bruno Nicolai forged distinct and unexpected creative paths that were entirely tuned to the eras through which they worked. Radical and forward thinking, they activated vast new worlds of possibility via the mediums of film and television. Morricone has long held legendary status for his soundtrack and library music work, as well as his explicitly avant garde and experimental endeavours within the seminal collective Gruppo di Improvvisazione Nuova Consonanza. But it is Dimensioni Sonore – a sprawling body of recordings originally issued by RCA in 1972 – that holds equal distinction as a historically prescient illumination into the slightly lesser known efforts of Nicolai and the ground-breaking importance of his work.
Regular collaborators over the course of their respective careers, Morricone and Nicolai met as students during the early 1950s at the Conservatorio di Santa Cecilia in Rome, fostering a friendship that would yield, from the mid 1960s on, hundreds of albums that bear both of their names in one role or another. Each of these is incredible and worthy of note, but none is as astounding, distinct or ambitious as Dimensioni Sonore. Reissued for the first time as a series of 10 individual LPs, and as a deluxe box set comprising them all, these recordings are regarded by many as the crown jewel in RCA's legendary library music series Catalogo Di Musiche Per Sonorizzazioni. 
To sum up, the luxurious, highly collectible Dimensioni Sonore box set includes:
– 10 vinyl LPs, replicas of the original RCA pressing
– 10 CDs
– a 48-page sewn-bound large book (LP size)
– an A3 poster on high-quality paper
– a tote bag screen-printed on ethically produced 100% cotton
– a hand-made linen box set 
– original liner notes with words by Pier Paolo Pasolini, Sergio Leone, Elio Petri, Giuliano Montaldo and Gillo Pontecorvo, plus a new article by renowned musicologist Maurizio Corbella exploring this reissue in detail.


Carefully remastered from the original analogue tapes by Claudio Fuiano and Daniel Winkler and coming in a lavish presentation, this is an essential release which fully showcases the state of the art of library music in Italy during the early '70s, and is nothing less than a timeless masterpiece.
Dimensioni Sonore is entirely distinct in scale and content. The recordings tower in the history of library music – the intriguing and idiosyncratic realm that, particularly in Italy, offered a vehicle for a swathe of the country's most radical composers to stretch their talents into wild and unknown territories, allowing them to infiltrate the public consciousness via the mediums of television and film. Gathering 103 works – 5 LPs ascribed to recordings by Morricone and 5 to Nicolai – ranging from cerebral jazzy numbers to otherworldly avant garde abstractions, it's no surprise that these recordings feature members of Gruppo di Improvvisazione Nuova Consonanza (in a sort of post The Feed-back album configuration).
Like nearly all library music, the works of Dimensioni Sonore were not composed with any particular film or thematic association in mind. Rather, they were to be selected by filmmakers at a later date. This gave Morricone and Nicolai a remarkable amount of freedom to follow their creative intuition into strikingly uncharted realms. Conceived in sequential order and deploying a startling range of acoustic and electronic instrumentation and techniques across the 10 LPs, Morricone and Nicolai work far more like avant garde composers than the creators of film scores. They set out to create a body of expressive and dynamic work which explored timbric exploitations and multiform musical parameters to maximise their possibilities for utilisation, titling each composition with no direct relation to its form, intentionally leaving the meaning entirely to the listener's mind. While too varied to describe in any detail, the organisations of sound encountered across Dimensioni Sonore are incredibly distinct within the music of its moments, and arguably any sound before or since. Sheets of pointillistic ambience bristle with details of synthetic and organic tones and textures, generating fields of abstraction that could be mistaken for any number of avant garde and experimental gestures of the 60s and 70s, were it not for the unifying, cracking rhythm section that drives it forward and pushes into entirely unexpected realms. Such creative radicalism gave Sergio Leone, Pier Paolo Pasolini, Elio Petri, Gillo Pontecorvo and Giuliano Montaldo plenty to explore in their original liner notes for this release.  
A true genre-defying marvel, Dialogo's vinyl reissue of Ennio Morricone and Bruno Nicolai's masterstroke Dimensioni Sonore is available in two editions: 200 copies in a super deluxe box set with 10 LPs and 10 CDs; and 300 LP-only copies. Both reproducing the original liner notes by the incredible cast mentioned above.