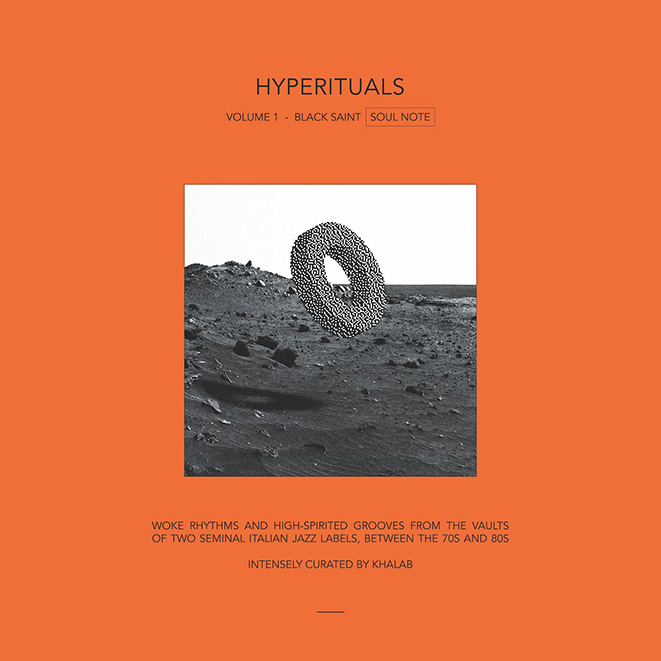 LP | HJ007LP | 8018344310077
VARIOUS ARTISTS
Hyperituals Vol. 1 / Soul Note
Every sample hunter keeps a treasure map, where X marks the spot of the deepest, richest musical mines.  Take the back catalogues of Blue Note or CTI which are Aladdin's caves glittering with sound gems ready to be set into brand new jewellry, in addition to being biographies of the aesthetic and cultural richness of African American  sound – an expressive force that never stops pulsing. 
Another vast, incredibly stimulating yet little-known catalogue is that of Black Saint / Soul Note, an Italian 'double'  label based in Milan. Starting in the 1970s, by the 1980s, it had established itself as one of the most important  imprints for international jazz. 
Virtually all of the brightest names in creative jazz or the 'avant-garde' of the era, left important artefacts: prominent  Americans on the label included Anthony Braxton, Max Roach, Archie Shepp, Don Cherry, David Murray, Roscoe  Mitchell and Sun Ra. It also gathered innovative Europeans such as Enrico Rava, Misha Mengelberg, Giorgio  Gaslini… to mention just a few.  
Today these musicians are considered some of the greats of African American music, but in the mid-1970s they found  it difficult, sometimes almost impossible, to release their music in the United States. While American imprints seemed  more interested in fusion music, and club and festival networks turned out to be increasingly competitive, the old  world of continental Europe not only acclaimed these musicians as artists but welcomed them, with full honours, to its  festivals and concerts halls.  
Jazz players of that generation frequently spent time in Europe, including Italy, a situation that offered them  opportunities to record live performances and to release sessions that were ignored in the US.  Founded in 1975 by Giacomo Pellicciotti and Giacomo Battistella – who owned the shop of the same name which  was Milan's high temple of jazz until 2008 – Black Saint later found an open and perceptive producer in Giovanni Bonandrini. 
Next to the more experimental Black Saint, the 'twin' label Soul Note was less cutting-edge, though the boundaries  were never rigid (which is why we're choosing to treat them as a sort of double label). Via Polygram's international distribution, Bonandrini found the key to getting the records out of their niche, so much so that, starting in 1984, they  
won the prestigious DownBeat Jazz Award for Best Label for six years in a row and conquered the American market. Among the hundreds of records released – and still available, even though the catalogue is now owned by CAM Jazz  – there are many masterpieces, and just as many supposedly minor records that demonstrate the possibilities of  sound, of rhythm, inspiring listening, remix, and endless sampling. 
In two volumes, the first dedicated to the Soul Note catalogue and the second focusing on Black Saint, Khalab's  selection illustrates not only his dystopian and Afrocentric sensibility, the music he has chosen renews, in unexpected  ways, his connection with the present.  
In this first volume, we find moments of ecstasy (the serene The Earth Spins Faster Than Words by percussionist  Adam Rudolph or the urgent Aladdin's Carpet by the Beaver Harris group), irresistible percussive webs (Tony Scott  from Spirits Return, Andrew Cyrille's tribute to Art Blakey, Danny Richmond's solo or George Russell's Afro-Cuban  sparks from the Big Band), fiery solos (from Hamiet Bluiett's baritone to Max Roach's quartet), poetic awareness  (Paul Motian's quintet with Frisell), and magical ritual lyricism (Billy Bang or Antonello Salis with Nanà Vasconcelos).  
Khalab's Black Saint / Soul Note universe (which also draws on some work from the 1990s, when the label was going  through a less vital period, but without losing its vision) is a colourful one, dotted with rhythmic galaxies in constant  motion. It is a true feast for the ears and a bewitching siren for the most curious and seasoned diggers.
Enrico Bettinello – curator and music critic 
Translations by Megan Iacobini de Fazio and Jessica Phelan 
Warm thanks to Martel Ollerenshaw for revising the texts)
Tracklist 2LP:
A1 Adam Rudolph's Moving Pictures – The Earth Spins Faster Than Words
A2 Billy Bang Sextet – The Nagual Julian
A3 Hamiet Bluiett – Bouka
B1 Beaver Harris 360 Degree Music Experience – Aladdin's Carpet
B2 Paul Motian Quintet – Hide And Go Seek
B3 Tony Scott – Spirits Return
C1 George Russell – Cubano Be, Cubano Bop
C2 Dannie Richmond Quartet – Olduvai Gorge
C3 The Andrew Cyrille Trio – A Tribute To Bu (Take 1)
D1 Hamiet Bluiett – Rain Shout
D2 Hamiet Bluiett – Nu Tune
D3 Max Roach Quartet – Mwalimu
D4 Nana Vasconcelos / Antonello Salis – Ondas (Na Óhlos De Petronila)