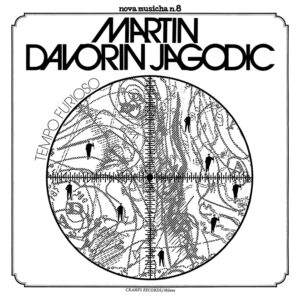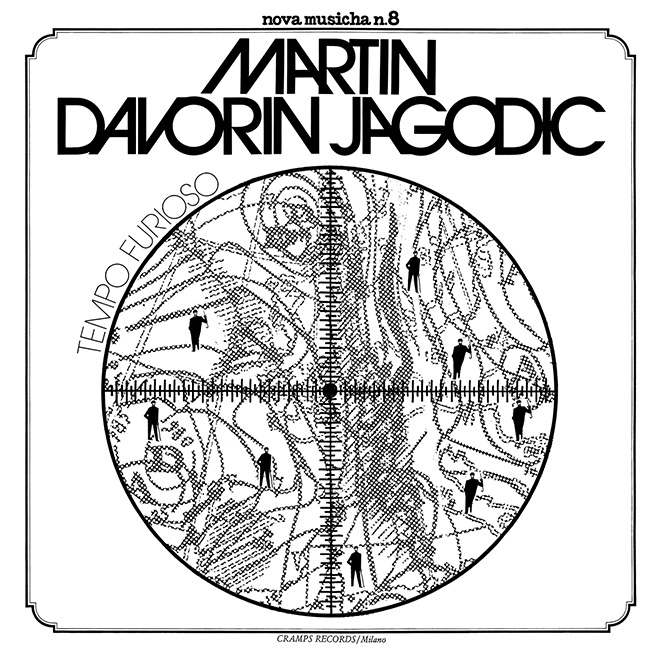 CRAMPS RECORDS REISSUE / NOVA MUSICHA SERIES N. 11
Yugoslav composer of French nationality.
I left Yugoslavia because I unconsciously felt that music could be a situation, rather than a sound object: in other words, that music could exist outside what is commonly called musical production.
For this reason, I won't mention any teachings in music or in other fields that I received in
Yugoslavia or elsewhere: likewise, I don't see any reason why I should name the people that I worked with during that period.
I learned many things from people who were not my teachers, with whom I simply met and sometimes worked. I must say that, with the exception of a few musicians, most of these friends had 'nothing to do' with music.
Later, I examined the idea of a 'musical situation'. This process led me to disregard the kind of music that is defined only in relation to a certain history, precisely that of music. It is certainly not a failure, but rather a success, that these thoughts have ended up producing, more and more often, not objects but actions (realities, situations) of imagination (there is a weak "yes" and strong, positive "no").
Years ago, I wrote that such projects are usually rejected as useless and sterile: they are 'negative' and unusable, they are part of an illusory process or a 'musical utopia'.
But it is precisely this that gives them – in a correct outcome – a completely new meaning that is a radical critique, capable of marking a limit to the sonic overflow of THE music.
In a space where the musical aspect is experienced in the form of absence, the only possible music can only be utopian.
The musical form has always been a kind of society… it doesn't suffice to widen the musical field anymore, [because] it is no longer about the relationships between sounds, nor about denouncing the musical object. It is all about creating situations, in which one firmly operates on realities situated outside of the mere structure of sound. Starting from these experiences, it is necessary to understand that the artistic object is not a specific field – negatively privileged – and that the work of the musician, silent or not, is something more complex than just delimiting a new musical space.
What for our enemies is 'Utopia', is, for us, a war to win. I mean, that in order to write a social structure through music, it is necessary to conceive society as music.
It seemed more interesting to me, since I had to write these biographical notes, to depict these few indications, however fragmented, rather than listing my date and place of birth, academic titles, social position…
Instead, I think it will be amusing for focused eyes and ears to find some of my works' titles here. (I would like to point out that, in most cases, these are not 'musical works', rather sets/topics that imply certain possible interpretations: all of this is not 'finished', it continues).
Tempo Furioso/Tolles Wetter
My first thought was to state that 'Tempo Furioso' is a version of the song entitled 'Tolles Wetter'. But things are not so straight-forward (after all, what is a version?), so I prefer to talk a bit about 'Tolles Wetter'. This way, I am sure that I will be able to avoid illustrating the relationships existing between the 'version' of 'Tempo Furioso' and the 'original', namely the music of 'Tolles Wetter'. Reading the diagram of 'Tolles Wetter' will help in listening to the record. It will also explain why I am forced to avoid the terms 'version' or 'variation'. These expressions, for several years now, have become faithful counterparts to certain compositions featuring 'multiple possible versions'; they make us almost automatically think of any 'Third Sonata', 'Klavierstück XI' or other open works of this kind. Because all of this is very far from my work, I do not want to use any of these terms. They would inevitably mislead the listener.
(In truth, it would be necessary to talk about the concept of a 'copy' and explain how it – as I understand it – is always different from the 'original': but it is not possible to do so in the little space allowed by these liner notes).
I'm saying all this in order to reassure the listener, who might otherwise think they are in front of a second-hand work (a minor version) and would therefore feel deprived, almost robbed, of the original. So, what is 'Tolles Wetter'? The actualisation of a (musical) situation – a place, an action – in which we are at home, well warmed up, in our room, while outside there is a storm. The disturbing elements – atmospheric or otherwise – are already there and will eventually find their way into our space. (Have you ever noticed that there are places, whole cities, that are penetrated by frequencies that create a particular kind of sound – oscillations that are in the air?). They can be fire, or some annoying 'Tafelmusik' ("what's going on under my table?"), wood creaking, wind blowing, as well as lines connecting us with the outside world, far away as it might be (radio stations, for instance).
Now, little by little, our situation becomes more complex. It is no longer a question of one story but of several. Bad weather has definitively stabilised (this does not mean that the action always has to be actualised in a violent way; not all possible actualisations are like 'Tempo Furioso'). Weather and time-duration are confused, we are invaded by memories, by projects… The different situations appear more and more like crystallised and superimposed objects/images, as if one wanted to be everywhere at the same time. Zigzagging through time, stumbling, enlarging the picture… reading makes its way into this picture.
Of course, not all actions can be performed at the same time. The overall actualisation/hearing will depend on the organisation of the connections. In sight of a global actualisation/hearing, roles are distributed, and the scripts of the different versions of the same story are written.
At this point, we can already better understand the sense in which – regarding the relationship between 'Tolles Wetter' and 'Tempo Furioso' – the term 'version' has little meaning. Let's say, therefore, that 'Tempo Furioso' is a possible actualisation that came to be because of its recording. This also explains why – and perhaps helps instigate – different and diverse possibilities of overlapping sides and records are proposed.
Instructions for the listener
This record can be understood like any other record: however, there are several unusual possibilities that are worth explaining. 'Tempo Furioso' is an album to be manipulated. It should not be considered as the author's ʽbusiness card', as the object that definitively sets the highest level reached by my works, or as a generic piece of music lasting roughly 40 minutes. It is an object to manipulate. Let's see how.
1) When listening to the record normally, all in one go, it is possible to invert the playing order of the two sides: either A→B, or B→A. Therefore, although you can stop listening at the end of side A, if you start from side B you will actually feel compelled to go on and listen to side A.
2) If you have two record players, you can listen to both sides simultaneously; the needle will be placed at the beginning of the two sides (A+B), just as normally happens: indeed, side B starts with one minute of silence. And this is the simplest mode of simultaneous listening. There are many others: as a matter of fact, the phasing between the two records can vary greatly. If you are looking for more complex organisations, it is important to vary the volumes: you can even cancel the sound of one of the two record players (or both), every now and then.
3) To get a 'concert' version, just use several record players: three, four and more, and/or multi-arm players. It goes without saying that the latter solution can also be adopted for the simple simultaneous listening experience (see 1 and 2).
4) Version with record player – or not – and tape recorder(s). 'Tempo Furioso' as composition material. Record fragments that will be put into records or endless tapes (other more complex assemblages can also be made). In this case it will be possible to produce either a version with record players and tape recorders, or with tape recorders only; or a version in which the musician(s) will use the record and tapes. These direct actions will be conceived, at least at first, as extensions of the 'Tempo Furioso' situations (e.g. sea, birds, radio emissions, telegraph waves, etc.).
5) Should one decide to actualise different situations that are complementary to 'Tempo Furioso' (see the text on 'Tolles Wetter'), it will be advisable to contact the author, who will provide the needed copies of the material. These materials will be chosen according to the location, duration, number of performers and playing tools – even if there are no performers at all.
Finally, here are some other hypotheses of records to manipulate. (The record is dead, long live the record!).
I. Geographica
The sounds/music will be recorded and organised in relation to the zones of the globe (countries, continents, cities, routes, etc.). The journey is not made in one single direction – that of the circular grooves – yet by moving from one zone to another, overlapping them, in order to add our personal memories to the actual situations of the different routes and places. (It is clear that already for a short circular path the passages from zone to zone will be very quick; employing the same speed we will return, with the next groove, to the same geographical zone).
II. Sky Planispheres
Any celestial body that is sketched on a given map corresponds to a sound or a small set of sounds of short duration. Since all these sounds have been calculated in function of a single block-sum of all these micro-sounds, the final result will be the overlapping of all the sounds in one single moment. It is clear that since the number of required record players for this performance is 'given', even if multi-arm players are used – this performance is purely of theoretical interest – as we move towards this solution, we will have to replace the record players with tape recorders. Of course, any other intermediate combination between the two extreme solutions is also possible. With the tape recorders, and not only with the total version in mind, we can affect the duration: make loops (musical fermata), keep the sounds of the complex versions ad libitum, even for several hours, perhaps adding other less dense and more spaced compositions. As with Geographica, this piece can be performed in several places at once.
III. Disc to be Read
Together with the sound material recorded on the disc, the sleeve contains a certain number of images, texts to be read (just as it may contain slides to be projected). This score is much more than an object completing and guiding the performance: listening to the record without reading the text (to be projected and designed, to be imagined) would be empty listening.
Martin Davorin Jagodic