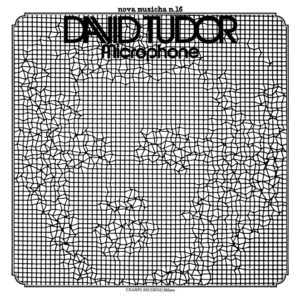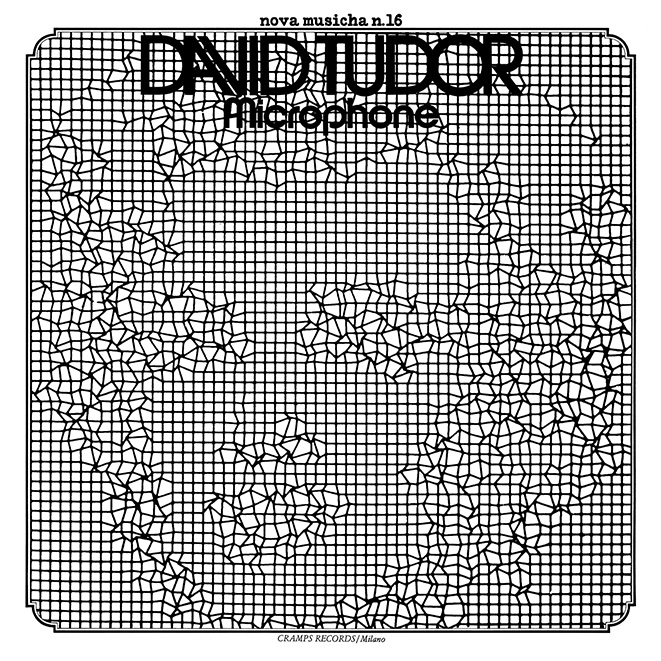 CRAMPS RECORDS REISSUE / NOVA MUSICHA SERIES N. 16
David Tudor was born in Philadelphia in 1926.
He studied organ and theory with H. William Hawke, piano with Irma Wolpe Rademacher, analysis and composition with Stefan Wolpe. He began his concert activity as an organist.
He has been known as the most important avant-garde pianist since the day he performed, to great acclaim, the American debut of Pierre Boulez's Deuxieme Sonate pour Piano (1950), and subsequently introduced the works of Earle Brown, Sylvano Bussotti, John Cage, Morton Feldman, Karlheinz Stockhausen and Christian Wolff to a larger audience
During this period, he worked as a piano teacher and concert pianist at the Residence at Black Mountain College, North Carolina, and at the Internationale Ferienkurse für Neue Musik Darmstadt, and extended his activities as a performer with the Merce Cunningham Dance Company, as well as working on the Projects of Music for Magnetic Tape with John Cage.
At the beginning of the 1960s, he and Cage switched to live electronic music as opposed to music performed in the studio.
He also gave numerous seminars on electronic music performance at various universities in the United States and at the National Institute of Design in Ahmedabad, India.
As a composer, Tudor relies on technological tools that are both flexible and complex: he uses mostly modular electronic devices, many of which he built himself. His method requires the choice of specific electronic components and transducers, whose interconnections define both composition and performance.
The sound materials he employs unfold through broad movements in time and space, with many of his compositions associated with visual sources: light systems, dance, television, theatre, film or 4-colour laser projections.
Bandoneon!, performed at the "9 Evenings: Theatre & Engineering" in New York in 1966, required a lighting system, a sound circuit, self-propelled sculptures working as loudspeakers, and images projected on a screen, all activated by the "bandoneon". Other collaborative works include Reunion (with David Behrman, John Cage, Lowell Cross, Marcel Duchamp and Gordon Mumma, 1968) and a number of works for video and/or 4-colour laser, in collaboration with Lowell Cross and Carson Jeffries from 1960 to 1977.
Tudor was one of four "Core Artists" who participated in the design of the Pepsi Pavilion for Expo '70 in Osaka, Japan, a project of "Experiments in Art and Technology, Inc."
There he came up with 10 composition programmes, including the first version of Microphone.
Tudor currently presents Rainforest 4 as a composition-installation with his electronic performance group "Composer Inside Electronic". Rainforest 1 was commissioned in 1968 by the Merce Cunningham Dance Company. Other electronic works composed for Merce Cunningham include Toneburst (1974) and Forest Speech (1976). Recently Tudor has completed Video Pulser, an integrally electronic score for Brazos River, a collaboration with Viola Farber and Robert Rauschenberg. At the moment, Tudor is developing a sound and fog installation for a Swedish island: Island Eye Island Fear.
The only source of Microphone's sound is the modulation of a microphone feedback produced in a distant echo chamber. The incidence and duration of the sounds are produced by the action of extremely close (narrow band) peak/notch filters (used in both modes), inserted into the lead signal. Each of the 9 versions is performed by the composer and simultaneously recorded on four tracks. Then the four tracks are spliced onto two, using a pan-matrix. The final product is a library of 9 stereo tapes, each about 32 min. long, which can be used in any combination, for live performances or for electronic installations. In these performances the tapes are played and stopped at any point, rewound and played again, altered in amplitude and/or equalisation, rotated on any given channel, etc., at will, for any period of time.
A live performance of Microphone (for instance without tapes) can be achieved by employing (a minimum of 4) performers using duplication systems, each one with 2 speakers.
This 1973 instantiation of Microphone covers a work originally conceived for the Pepsi Pavilion of Expo '70, in Osaka, Japan. Conceptually, the original work derives from discoveries made through the composer's collaboration in the design of the Pavilion's acoustic system. Sound diffusion was achieved through the use of 37 loudspeakers placed in a rhomboid grid system covering 3/4 of the sphere.
The loudspeakers could be "temporalised" at the entrance and exit of sounds, at variable speeds, following predetermined spatial models. The composer experimented with highly directional microphones, randomly pointed in space and amplified at the feedback level. The resulting signals were controlled in incidence and duration solely by the action of the loudspeaker's temporaliser. Modulators, with variable features, designed and incorporated into the sound system by Gordon Mumma, were placed in the lead signals in order to vary the musical content of the feedback signals.
These experiments, although carried out through a compositional process, were not recorded in the Pavilion, due to the presence of "ambient noise" created by the multiple electrical fields. However, since the "tuned space" concept is now involved in Tudor's compositional processes, the work could be recovered using variable bandpass filters (but capable of accommodating or excluding a cycle), and "q" variables, such as "tuning" elements, instead of operative loudspeakers. The used filters are manufactured by Ling Electronics, California.

The original tapes for Microphone were recorded in May 1973, at the Mills College Centre for Contemporary Music, using funds from their multi-track recording research project.
The recordings were conducted by Robert Sheff, with assistance from John Bischoff.
The two versions of Microphone featured in this recording were made with the assistance of the ZBS Foundation, Fort Edward, New York. Such grants were possible thanks to the public funds from the New York State Council of the Arts.
Mix A is a combination of 3 stereo tapes;
Mix B is a combination of 6 stereo tapes.
These recordings were edited by Robert Bielecki, of the ZBS Fundation. The DBX Noise Reduction System was used for the recording.
Parts of Microphone were employed by Viola Farber for the choreography of her ballet Dinosaur Parts.