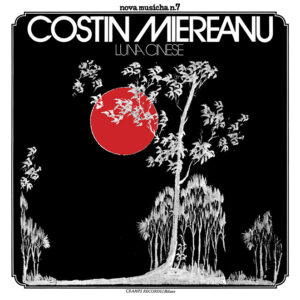 CRAMPS RECORDS REISSUE / NOVA MUSICHA SERIES N. 7
Costin Miereanu was born in Bucharest on 27 February 1943. After studying piano at the city's Music School, he entered the Romanian National Conservatory, where he won the first prize in composition in 1966. The following year he was awarded with the "Prize of the European Cultural Foundation" (first prize) at the International Composition Competition, established by the Dutch Gaudeamus Foundation. In 1967-68-69 he attended the Summer Courses for New Music in Darmstadt and participated as a guest composer in the creation of the collective work Musik fur ein Haus, under the direction of Stockhausen.
In addition to his work as a composer, he was also interested in musicology and music criticism (with articles and studies published in many magazines, but also radio broadcasts): moreover, he wrote a History of Romanian Music in collaboration with Doru Popovici.
In 1968 he moved to Paris. Passionate about the study of semiotics, he worked on a doctoral thesis at the Ecole Pratique des Hautes Etudes titled Technocomposition, way number zero of musical writing.
In 1972 he was appointed professor at the University of Paris VIII (Department of Music). His teaching focused essentially on the transformations of current musical notation, on the multitude of relationships between image and sound, and on research about the organology of timbres. Extensive excerpts of his research have appeared in journals such as "Musique en jeu", "Art vivant", "Sonda", "Darmstadter Beitrage", etc. His works have been performed and recorded in Paris, Cologne, Frankfurt, Munich, Düsseldorf, Beirut, Stuttgart, London, Madrid, Utrecht, Amsterdam, Basel, Prague, Zagreb, Bucharest, Mexico City, Copenhagen, Tokyo, in the United States, as well as in concerts and contemporary music festivals such as "Le Domaine Musical", "Espace Cardin", "Musica viva", in Bremen, the Royan Festival, the Music Biennale Zagreb, SIGMA in Bordeaux, the Summer Courses for New Music in Darmstadt, the Contemporary Music Week of the Gaudeamus Foundation, the Musical Encounters in Orleans, etc.
His works are published by Salabert, Paris-New York.
The course of Luna Cinese (side X or Y) consists of continuous low-density repetitions – the kind of "woven" silence you find on mountains – occasionally disturbed by irregular and very dense insertions – the kind of intense noise you find in the city.
The purpose of these subsequent insertions is, on the one hand, given their relentless character, to deceive any desire of discovering a linear evolution, and on the other hand, due to their composite nature (= stasis of the present moment, in which past-present-future are mixed, as in a tourbillon), to break the straight-forward logic of development, thus assuming working as an interference. It is not about a "negative", aphasic interference, but on the contrary a 'positive' burst of quantitatively immeasurable super-memorization.
Hence a constant ambiguity in the text's montage – scattered fragments or a continuous series of rings as in a rosary: several stories develop together or in parallel lines, without being able to know which one is the real one. This kind of development recalls those tales – apparently all true and based on the same real facts, although they change from time to time – which are told on different occasions by those people who, in medical terms, are said to suffer from a certain mental disorder. Artistically speaking, I believe that such examples speak of an extraordinary ability to produce surrealism in its pure and/or unconscious state. Basing my work on this kind of 'schizoid' development, I have recently produced a number of "plural" works, which are both sonic and visual.
The formal structure of Luna Cinese (side X or Y) is circular and symmetrical on all sides, like a sphere that could be spun in any direction without shaking its perfect balance, transient and smooth as it is. It is a simple dreamy image of a sphere rotating around an axis that is itself the object of a rotating motion. It is likewise the simple, mechanical image of a spinning disc.
Semantically speaking, it is the superimposition of concentric spherical layers, like parallel, autonomous levels – a bit akin to geological strata's curves. Many stories (German text) gravitate independently from each other around this sort of centre. They appear as fast as meteors (once only) or in subtle ways (2 to 7 times), creating a linear discourse and thus a meaning through disparate fragments, only to then destroy (erase) it, or to repeat the same mood over and over again, etc.
Such texts, short and to the point, will trigger, at each burst-flash, characteristic musical mini-situations that will always accompany them as involuntary leitmotifs.
Cooking recipes, childish songs, sarabandes of messy memories, mental transcriptions of actual or only imaginary discussions, will cross their paths in a rather sophisticated and structuralist montage. A musical science fiction tale, built from the smallest and most insignificant elements of everyday life.
A reading over time could, among other things, show a slow motion photoflash from "Journey to the Centre of the Earth", an initiation journey towards the discovery of the idea of "centre", the erotic-hermetic symbolism of the "shell", the spiral of Marxist dialectics, the mechanical operation of the record player, the needle passing through coil after coil until the final stop, the empty centre, the silence of sound, the absence of music. Now, it is here that the initial ambiguity finally blooms: what do we find at the bottom of this "final" point, of this centre, shell, cul de sac or mantra? First of all, the progressive cancellation of every sonic being and the clear enunciation of the title itself, Luna Cinese ("Kinesische Mond", "lune chinoise", "Chinese Moon") – a large and round flying disc. Theoretically, we can call the record's A or B side a meaning-making process, a creeping or nascent process. Through a progressive (re)discovery that reached the title itself, we have now achieved a sonic seeding.
Luna Cinese (side Y or X) is in a way the negative of the other side of the disc. Schematically, it can be defined as the horizontal projection of the other, as the planispheric flattening of the terrestrial-lunar globe X or Y.
Theoretically, we can describe the Y or X side as a process of progressive aphasia, a slow destruction of the title's meaning, a process of annihilation or a dusky process. Through the progressive oblivion that goes from the sounds to the title itself, which vanishes, leaving room for the woven silence, we have achieved, without realising it, a sonic crumbling. In musical terms, the Y or X side is a continuum made of low-intensity, half-tone superimpositions of echoes and reminiscences. This continuum is periodically broken by natural elements: waves, winds, fire, birds. Inarticulate vocal language replaces the meaning-bearing text, the intersection of weak sounds (harmonicas or wind instruments) takes the place of dull-toned bells and chimes; waves, birds, crackling fire and rain take the place of meaning, and the sounds of token machines, one or two forgotten death knell bells, chime the sinking keywords of other times and other people: "feedback catastrophe", "governor pneumatic", "aquatic park".
At the end of a combined experience of both the record's sides (as usual: X or Y, Y or X) we will have played a child's game, we will have written words on dusty quicksand; we will have travelled, mentally and musically, through a progressive path, that is the space between the known and familiar environment and an impersonal "elsewhere", situated beyond the present time. Luna Cinese, using the language of the record (a socio-cultural object) writes poetry about the shipwreck of contemporary music understood as a "joint-stock" organism of Western society. In this sense, it can be very modestly understood as a little cultural revolution.
It was a tricky problem for me to find a form, an extreme musical example that could take advantage of the qualities of the record, and at the same time manage to avoid its drawbacks. The problem was all the more complex because during the last few years I had mainly worked on processes which, from a formal point of view, were extremely free (see what I said at the beginning) and which were often plural processes (what I call "spatio-temporal rewritings" or "phono-visual writings"). In both cases, there was a clear incompatibility between this alternative way of conceiving music and the purely and solely sonic fixity of the record.
I agreed to do this, when I saw the possibility of an extreme achievement, this Luna Cinese, which could, in my opinion, accommodate my concerns of mobility and visualisation within the coils of the disc. In my view, it is both precise and mobile, since the listening variations are different and multiple: subsequent, simultaneous or oblique listening – see below for instructions on how to manipulate one or more Luna Cinese.
Moreover, it is similar to cinematographic temporisation because of the heterogeneous plurality of the sound material employed, and because of the possibility of obtaining a listening experience full of pitfalls (traps, wrong ways, flying carpets, etc.) that lead to unexpected places.
As with the moviola, we can go backwards but also start differently each time.
From a socio-cultural point of view, Luna Cinese must be conceived not as a finite object, yet as a final result, as a signature, a flutter and a departure ticket for a subsequent realisation we can listen to. The listener will have to reject his own passive pleasure in order to become an active participant, in some way, a partner in crime of the "artist".
Here are some examples of manipulation:
1) Subsequent listening:
a) by side: this is the closest to normal record listening: first side 1, then side 2.
Here each side can be either 1 or 2.
b) concatenated: X or Y → Y or X, or vice versa.
c) looped: if you have two record players it is already possible to create a small sound circle of practically infinite duration, looping both one side with itself and the other with itself, and the two sides with each other.
2) Simultaneous listening:
X or Y → with all possible displacements.
Y or X ←
Given the mutual positive-negative relationship between the two sides, X or Y benefits from a mainly rich sound recording, but Y or X intentionally features a weak recording, despite any technical drawbacks this may imply. Therefore, in a normal superimposed listening, Y or X is likely to be virtually wiped off by the volume of X or Y. This can easily be avoided by doubling or tripling, etc., the number of record players playing the weak side.
A continuous loop connection with complex superimpositions can be made if a larger number of record players is available (e.g. in a shop of hi-fi systems or musical instruments, in conservatories, universities, houses of culture, concert centres).
3) Oblique listening:
combines subsequency and simultaneity in an exploded, atomised form. In order to achieve this, several record players are required to run in parallel with delayed starts. Obliquity is achieved by swiftly controlling the volume buttons (open-closed), so that you can produce every possible "flash", from the tiny drop of sound isolated between silences (when all buttons are closed) to a dense and charged firework.
In this last and more complex case, it is advisable to draw up an outline of the realisation you wish to implement beforehand.
COSTIN MIEREANU, September 1975
In a society where commodity and ideology actualise themselves one within the other, forms of communication are transformed, with entertainment being no exception. Entertainment, subject to consumption in the form of commodity, transforms the social brain's performances (and the needs they answer to) into images, ordered according to an unchanging production technique. Communication, a social and creative activity since the beginning of human society, is now enjoyed in the form of an "object", purchased at a high price and experienced in the solitude of a guilty separation. Instead of the traditional forms of communication, which presuppose a compact environment of potential receivers, in which the exchange of information takes place in the immediacy of interpersonal interaction (the churches, the university, the educated society, the fair, etc.), we find – in the condition of generalized commodification – the exchange of informative products within distant and non-homogeneous environments, that make interpersonal exchange impossible. The book distributed in thousands of copies, like the film seen in the darkness of a room full of strangers; the record we listen to in the solitude of a room, like the TV show that infiltrates the silence of a living room; they do not ask for answers, they do not activate the mechanism of communicative exchange. Their potential for exchange is exhausted in the commercial transaction that leads them from the producer's factory into the consumer's home. Distribution, which has now become the real dominant factor in the generalisation of entertainment, since it allows the population's most distant layers to access the consumption process, separates every object of communication – which has become a product – from the social context from which it draws its reasons why, and converts it into a fake universal, which everyone can read, but nobody cares for. The social brain, expropriated by the production process, where it is reduced to an intellectual assembly line, undergoes a second expropriation in the consumption process, where – deprived of the dimension of the communication environment – it is degraded to a solitary acceptance, to an unconscious interest.
Artistic institutions, born as forms of social communication and then transformed, thanks to the patronage of the powerful (Church, princes or publishers looking for prestige), into commodities for a few privileged social classes, when parting from every homogenous context of communication and escape the discriminating judgement of the elite, they end up asphyxiating and losing all reason why: only deluded people used to live in memory can hope to regenerate their splendour.
Where the market's rules dominate (and social consumption depends on the power of the means of distribution), the technical rules of artistic production lose their meaning: already in disuse due to the modification of the communication's conditions, they become completely useless due to their incapability of getting ideological consensus on a general scale – the inevitable premise of consumption. Disconnected from any relationship with the actual environments of communication, and thus deprived of any circuit of (non-manipulated) social control, artistic production becomes a soliloquy that forgets the rules of exchange, a solitary creativity that no longer generates shareable intersubjective conventions of value. In the last century, this has become glaringly obvious: the industrial expansion of entertainment, as the exclusive form of domination in the field of social communication, has been accompanied by a progressive reduction in the social incidence of artistic production (a form of communication that has by now atrophied), which form is now 'programmatically' unreadable or in any case far from the conventions of current communication.
Reduced to tiny market niches, governed by modest patrons and an audience nostalgic for a remote ritual of which only cunningly allusive remains survive, artistic production seems capable of nothing but mimicking the history of its own degeneration: the main theme running through its bizarre and hollow attempts is the dismantlement of those technical rules used to guarantee its social communicability, and which the spreading of industrial entertainment has long since destroyed. The scenario of the liberation of artistic gestures, which seems to control with inflexible tenacity all contemporary poetics, is denounced as a (mimetic and irritating) celebration of the social marginalisation of artistic communication, of its practical ineffectiveness. Miereanu thus becomes an exemplary case: his destructive action, which dissipates all the possibilities of conventional and transmissible order of the sound material, taught by the technical knowledge of the past, brings to an ultimate realisation of the "process of soliloquy" of artistic production, its progressive transformation into a private fantasy. The social marginalisation of art is celebrated in the masochistic ritual of the artist who repeats the stages of such an exclusion process, disguising them in the illusory form of an autonomous liberating conquest.
The corpse of art, long putrefied but always available to the new generations, is killed for the umpteenth time – but with extraordinary scientific rigour.